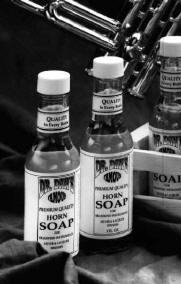 Dr. Dan's Horn Soap
Price: $8.95

Dr Dan's" Premium Quality Horn Soap.

THE INSIDE STORY

Not long ago lived a master craftsman named Dr. Dan. His time long spent in a brasswind repair shop in O.C., CA. Many had come to know of his fine ability to cleanse the worst of grunge from the inside of the brass & silver tubes. Because of Dr. Dan's desire to hear clean air expelled from horns around the world and the intense demand for a soap of this quality for musical instruments, Dr. Dan has bottled his super secret special formula high quality sud for personnel use at home. Keep the wind clean. Go with Him. REV 1:8

Key Benefits

High quality, no residual film after rinsing.
Super sudsy, one bottle will give you three washes.
Breaks up grunge better than any other horn flush.